Save the Date: BOL*j – BERLIN OPEN Link JAM #1
Save the date: Friday, July 22 @NoizeFabrik
How will we make music in the future?
What does it sound like when a crowd makes music?
Which styles can we create over a network of tablets and apps?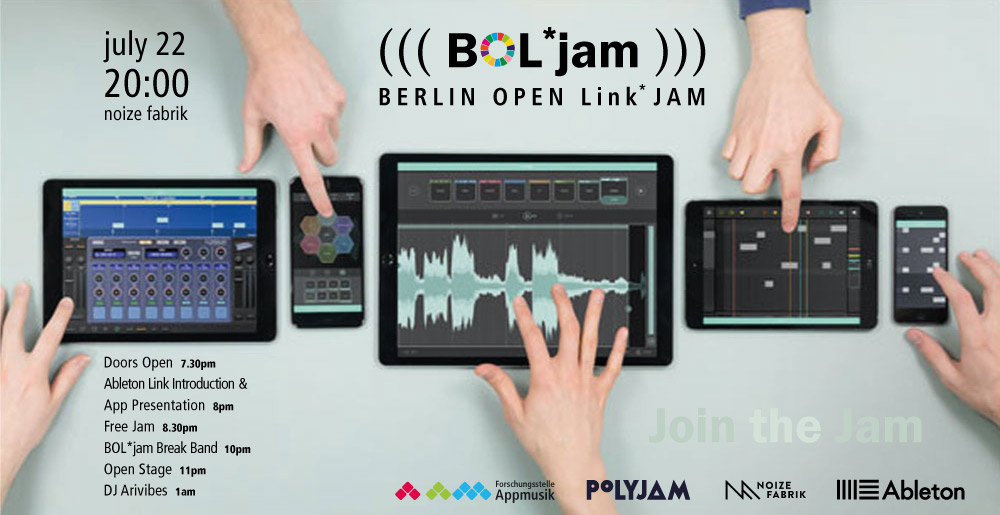 These are just a few of the questions we will explore at Berlin Open Link Jam ((( BOL*jam ))) by inviting YOU to come with your Link* enabled apps and Ableton setups, hook up, link in, and jam on.
Ableton Link provides an easy way to synchronise the timing of large amounts of music-making apps, which allows for new ways of collaborating between electronic musicians, djs and musically curious app junkies. This sets the path for an unknown future of digital rhythmic sonic possibilities where the boundaries dissolve between performers, audiences and technology to create a hybrid multi-dimensional art form where music is democratised and created by all, on top of an invisible WiFi metronome.
This event is not only for musicians, if you have a device with a Link-enabled app, bring it, if not… install one of these: www.ableton.com/en/link/apps
BOL*jam premieres on July 22nd
at the audio co-working space "Noize Fabrik", Elsenstraße 52, 12059 Berlin-Neukölln
Doors Open 7.30pm
Ableton Link Introduction and App Presentation 8pm
Free Jam 8.30pm
Concert & Improvisation 10pm
Open Stage 11pm
DJ Arivibes
Initiated by the Research Centre for Mobile Music Making and App Music, Berlin University of the Arts. www.forschungsstelle-appmusik.de
Moderated by Gad Baruch Hinkis of Polyjam art group. www.polyjam.de
Hosted by Noize Fabrik. www.noizefabrik.com
Supported by Ableton and the Ableton Link team. www.ableton.com