Programme & Sound & Space @BOL*jam #1
Some notes to the upcoming ((( BOL*jam ))) event on july 22th in 2016.
The last week me made a lot of testings.
#1
The Noize Fabrik is perfect to make an event. Friendly People there! We have a very cool sounding space. A good bar with good prices for beer and coctails. We will have a good party not only for music makers also for friends and listing and dancing and fun and communication. #thankyou
They also grabed a cook for us! #delicious
#2
We need a cisco router that works with more than 100 clients. The Fritzbox and the ASUS are enough. We could lend one of that from the UdK Berlin (Berlin University of the Arts) for this event.
#3
We have a lot of speakers and monitors and cables. To have all the sounds and beats together we connect all the iPads, iPhones and Ableton-PCs to several speakers.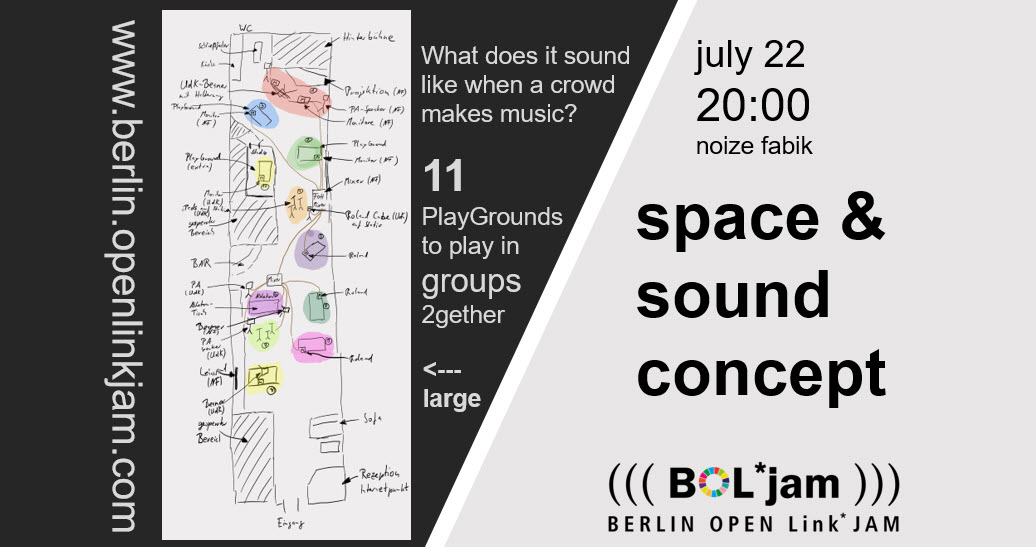 #4
The sound & space concept should work. We made a first run. The idea is, to make little groups of players collected in specific locations. We call them PlayGrounds. Every PlayGround has its own Speaker and a mixer. So the groups have their monitor for their sounds. All 9 PlayGrounds are connected to a Main PA. So we can play all together. The level on the Main PA of the several PlayGrounds is not the same. We have a moderator who will mix us like a director.
#5
The Programme is a mixture. It starts with an introduction and after that with the Link jam.
Doors Open 7.30pm
Ableton Link Introduction & App Presentation 8pm
Free Jam 8.30pm
BOL*jam Break Band 10pm
Open Stage 11pm
DJ Arivibes 1am
There will be also Special Guests. #supprize
#6
We are planning to make a regular event. The next ((( BOL*jam ))) is on september 24th 2016 at the NOIZE FABRIK.
Please spread the word and come early to the first ((( BOL*jam ))) event ever!
The ((( BOL*jam ))) Team
———